Roasted chicken chunks cooked in creamy tomato gravy. This is one of the most popular dish not only in India but also in the UK. You are sure to find it almost any where around the world in every non-vegetarian restaurant. Here is my rich creamy recipe of Chicken Tikka masala which is an all time favourite of my family.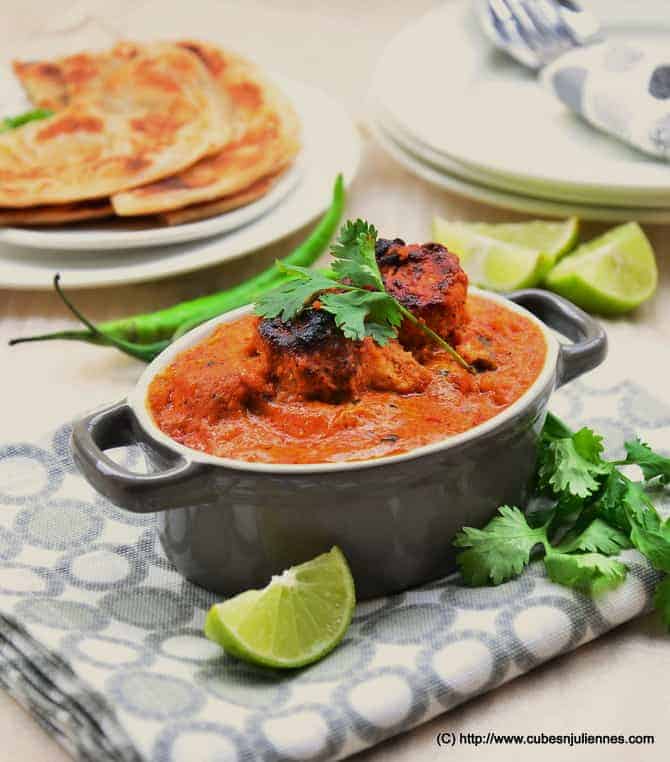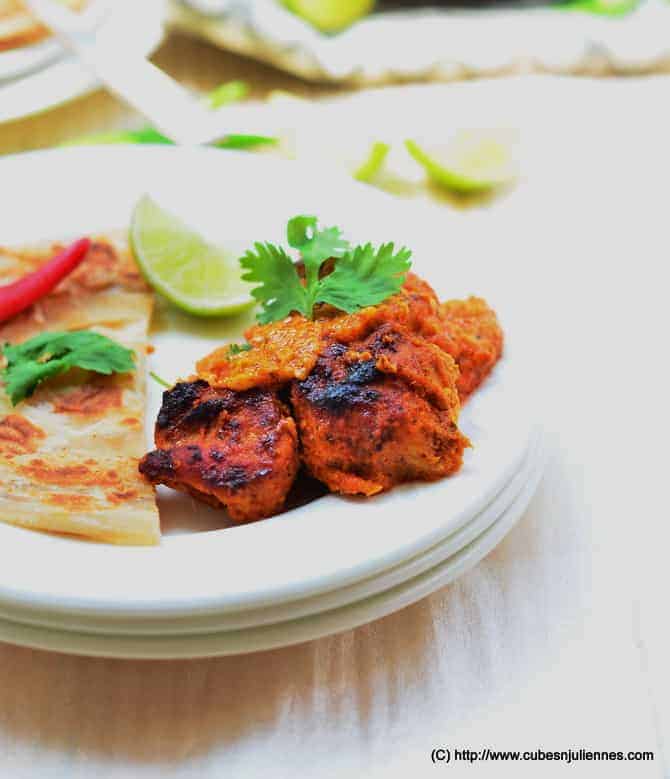 500 gms, boneless chicken, cut in medium sized cubes
2 tbsp, tikka masala (I have used my home made Tikka Masala which can be found here
1 tbsp, ginger-garlic paste
3 nos, large tomatoes, finely chopped
1 nos, large onion, finely chopped
1 tsp, ginger-garlic paste
1 nos, cinnamon stick, 1 inch in size
2 tbsp, capsicum, finely chopped
1 tsp, Kashmiri red chili powder
Burning piece of charcoal
1 tsp of ghee.
NOTE: For the desired consistency of the gravy, warm water can be increased or decreased accordingly.
Marinate the chicken pieces with all the ingredients mentioned for the marination.
Refrigerate it overnight. If in hurry marinate atleast for 2 hours.
Pre-heat the oven at 200 degrees.
Place the marinated chicken pieces in a tray or skewer it.
Broil the chicken for 15 mins or till its charred.
You can also grill it in a tandoor or a grill pan.
In a pan or kadhai, heat oil and butter together. Add coarsely crushed green cardamom, cinnamon stick and cloves.  Fry it for 10 seconds, cover it, switch off the heat and leave it for half a minute so that the aroma of the spices gets infused in the oil and butter.
You may discard the cloves, cardamom and cinnamon stick or leave them as it is.
Turn on the heat, add cumin seeds and allow it to crackle.
Add finely chopped onions and fry till translucent
Add ginger garlic paste and chopped tomatoes, cook till raw smell goes off, tomatoes gets soft and its water dries up.
Add green chili, capsicum, tomato puree, cumin powder, red chili powder, turmeric, ½ cup of warm water and cook for 2 to 3 mins.
Add chicken pieces, cream, honey, salt and simmer for 4 to 5 mins.
Finally add kasuri methi and simmer for another minute.
Once the gravy is done, p
lace a small steel bowl or piece of aluminium foil on top of the gravy. P
ut the heated charcoal in the steel bowl and pour 1 tsp of ghee over it to create smoke.  Immediately, cover it with a tight lid to allow the smoke to penetrate in the gravy.  Let it stand for 10 mins.
Dish out and garnish with coriander leaves. 
Serve hot with nan, paratha or pulao of your choice.